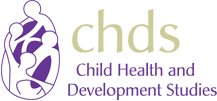 About Us
The Child Health and Development Studies (CHDS) is committed to investigating how health and disease are passed on between generations--not just by genes, but also through social, personal, and environmental surroundings.
Nearly 50 years ago, over 15,000 families joined the CHDS to help us reach this mission. Families who were members of the Kaiser Foundation Health Plan in Oakland, California voluntarily enrolled in the CHDS between 1959 and 1967 when a woman first thought that she was pregnant. Each of the 15,000 families who participated in the CHDS made a generous contribution of their time to participate in comprehensive interviews about their health, lifestyle, and experiences that might influence the progress of pregnancy and the health of their infant.
Today, CHDS scientists continue to investigate the relationships between biologic, behavioral, genetic, and environmental factors in early family life to health outcomes in adults. The CHDS has begun a new era of follow-up studies on CHDS children, now adults, and their children (CHDS grandchildren). Because we have followed CHDS families since the 1950s, our cohort spans generations, allowing important scientific questions to be answered inexpensively, without waiting 50 years. Through these studies, CHDS scientists are working to uncover ways to prevent disease early in life.
The CHDS is a project of the Public Health Institute, an independent, nonprofit organization dedicated to promoting health, well-being, and quality of life for people throughout California, across the nation, and around the world.
The CHDS is supported with funds from the National Institutes of Health.