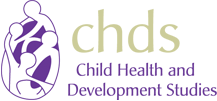 Current Projects
Reporting Personal Levels of Environmental Chemicals: Impact
PI:
Barbara Cohn and Laurie Havas, CHDS
Description:
The major goals of this project are to test the hypothesis that personal report-back will increase participant's commitment to research, knowledge about environmental chemicals, and motivate personal and community-level action to reduce exposures; and that personal report-back will motivate women who are often asked for health advice to discuss environmental chemical exposures with their broad networks, spreading the message.

This is the first study of its kind, and is likely to change common practices in environmental research studies that generate exposure data on humans.
Funding Source:
Fetal Exposure to maternal stress and inflammation: Effects on Neurodevelopment
PI:
Lauren M. Ellman, Temple University
Description:
This project aims to investigate how maternal (CHDS mothers) stress and maternal inflammation during pregnancy, and fetal hypoxia influence the risk of symptoms of depression during adolescence in offspring (CHDS children).
Funding Source:
Perinatal Exposure to Environmental DDT and Risk of Metabolic Syndrome
PI:
Michele La Merrill, University of California, Davis
Description:
With Dr. La Merrill we will investigate, for the first time, maternal exposures to endocrine-active compounds in relation to biomarkers of metabolic disruption, including hemoglobin A1-C a marker of diabetes.
Funding Source:
Identification of Spectrum Neurodevelopmental Sequelae in CHDS Cohort
PI:
Barbara Cohn, CHDS
Description:
We will identify cases of spectrum of neurodevelopmental sequelae including ADD, ADHD, learning disabilities, sensory processing disorders, mental illness, emotional disturbance, social cognitive deficits and autism spectrum disorder in the CHDS cohort grandchildren. This study prepares for the first three generation study of autism in relation to CHDS mothers exposures.
Funding Source:
Prenatal Environmental Determinants of Intergenerational Risk (PEDIGREE)
PI:
Barbara Cohn, CHDS; Mary Beth Terry, Columbia University
Description:
The investigators will study human exposure to organchlorines during two critical windows of exposure for the breast: 1) pregnancy when preparation for lactation places the breast at risk for cancer in the mother and 2) the prenatal period when breast differentiation places the breast at risk for cancer in the daughter. There are few human studies where exposure to endocrine active compounds during these critical periods can be measured directly in relation to subsequent breast cancer risk. This research addresses this gap and represents a novel and unique opportunity, efficiently using the CHDS cohort that spans two generations. The investigators together with the community partner, Dr. Marj Plumb, will also develop the capacity for cohort members to participate on an advisory council, enhancing the relevance and success of continuing breast cancer research in this unique study population.
Funding Source:
Environmental Causes of Breast Cancer Across Generations
PI:
Barbara Cohn, CHDS
Description:
Tests the idea that prenatal exposure to environmental chemicals increases the risk of breast cancer. Many of these compounds are known to affect fertility, birth outcomes and immune function and are thus suspected causes of or contributors to breast cancer. However, no human study has been able to measure exposure in the womb, a time of vulnerability for the developing fetus.
Funding Source:
A Lifecourse Approach to Emerging Health Disparities in a U.S. Cohort
PI:
Bruce Link, Columbia University; Barbara Cohn, CHDS
Description:
A Lifecourse Approach to Emerging Health Disparities in a U.S. Cohort (DISP) is a new collaboration between CHDS investigators and Columbia University. The study is sponsored by the National Institute of Child Health and Development. The focus of this project is to understand how and when racial and socioeconomic disparities in health emerge over the life course. It will provide critical information for understanding why disparities exist and how they might be addressed.
CHDS staff are now contacting eligible men and women to participate in this study. Please consider joining if you are contacted. You will make an important contribution to scientists' knowledge about how the health of people like you changes over time.
All information provided by participants will be kept completely confidential. The information will not go to the participants' doctor or into their medical records. Participants may refuse to answer any question, and their choice to participate or not will not affect their health coverage in any way. Participants will be compensated for their time and effort.
Funding Source:
Maintenance of the Child Health and Development Studies
PI:
Barbara Cohn, CHDS
Description:
Supports the basic maintenance of data files, provides for the sharing of public use files for other investigators, and gathers new information about study participants as it becomes available.
Funding Source: